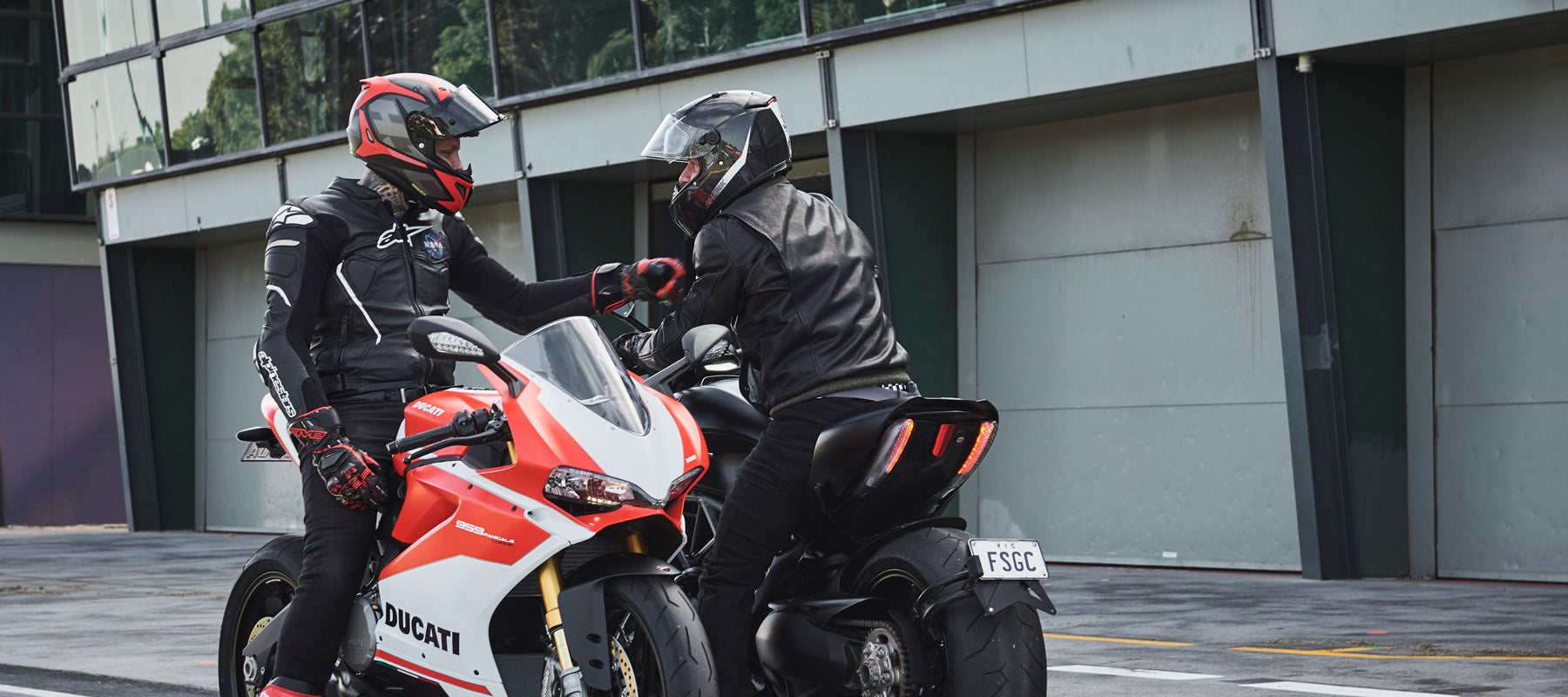 WHAT IS FLYING SOLO GEAR CO?
Flying Solo Gear Co. is a Melbourne-based motorcycle and apparel brand for sport, street, and adventure riders.
"Flying Solo" comes from the rush of freedom and adrenaline when we get on two wheels. The phoenix emblem reminds us that we will always come back stronger from a fall, and the killswitch marks the start of every journey.
Flying Solo Gear Co believes that every rider can be brave, whether you're a learner twisting the throttle for the first time, a competitive racer pulling throttle, or an off-road rider going through a water crossing. As long as you're on two wheels, you're part of the riding community.
Since 2016 we have been grateful to connect with thousands of riders across the world, in all corners of the globe, through the mutual understanding of the symbol of the phoenix.
Flying Solo Gear Co started in February 2016 in a tiny shoebox apartment in Melbourne by a Canadian backpacker who stopped taking herself seriously after spending 3 months on a chicken farm.
After totalling her bike, founder Amanda decided to create specialised carry equipment for motorcycle riders that keeps them safer and more comfortable when riding. Ironically, she later went on to gaffa tape that same bike back together and ride it right around Australia.
With an empty wallet and a full heart, the first prototype of a Kevlar bumbag was created using a borrowed hobby sewing machine and scraps of polkadot tablecloth. The workspace was a single folding chair and a nightstand from Ikea. The total investment was just under $20.
The logo design, website, and branding was created in a single heavily caffeinated 8-hour stint at a cafe, followed by a gruesome overnight work-a-thon, whilst sitting crosslegged on the floor of the apartment.
Fast forward to now, we're stronger than ever before, and it's thanks to the legends out there who proudly rep our gear. We're excited to bring back our Killswitch Pack, update our Ashvault Backpack, and we have just launched our Tully Tailbags and Roxby Adventure Duffel.
We're a microbusiness based in Melbourne, with big dreams to have a cafe-warehouse someday.
We're so stoked to have opened our first retail store in February 2023. We'll soon be upgrading our shop in June 2023, at 254 Dorcas St, South Melbourne!
Most importantly, we love being part of the community, hearing about riders who have overcome their fears and unleashed their #BRAVE.
Founder / Director
Amanda is the founder and sole operator of Flying Solo Gear Co. She has a Bachelor of Science, Human Kinetics (B.Sc H.Kin) with a specialty in sport-specific biomechanics and strength conditioning from the University of British Columbia.
For her post-secondary degree, she spent 6 years studying the movement of the human body. Amanda's passion lies in creating motorcycle gear that helps people move naturally and comfortably while riding.
She is an avid motorcycle traveller, lapping Australia on a Suzuki GSX-R600 sportbike and crossing the Simpson Desert (without prior experience riding off-road) on a Husqvarna FE450 enduro bike.
Flying Solo Gear Co strives to create tough, comfortable motorcycle gear that is both pleasing to the eye and confidence-inspiring to the rider.
In her spare time, she enjoys doing Olympic weightlifting, calisthenics, and powerlifting at home. She's powered by caffeine and petrol most days.
She has been the past owner of 13 bikes, including a 2007 Suzuki GSX-R600, a 2007 Suzuki GSX-R750, a 2014 Aprilia Shiver 750, a 2017 Yamaha XT250, and a 2014 KTM rc390 track bike. She has also ridden a Ducati Panigale 1199 R in an AAMI Insurance TV commercial, a Yamaha MT09 in an Eric Insurance marketing campaign, a Suzuki DRZ400 in 2 deserts, and various other bikes along the way.
Currently, the bikes in her garage include a 2017 BMW s1000rr, a 2014 Husqvarna FE450, and a 2019 Honda Grom everyday/track bike.
Amanda believes in being kind and genuine to everyone she meets, as long as they do the same.