The Ashvault X Backpack 15L
NEW VERSION COMING JANUARY 2023
A fan favourite, with a strong reputation for comfort and style. Very popular amongst sport and street riders, perfect for carving through the twisties. Makes your gear feel weightless so that you can focus on the ride.
EASY 30-DAY EXCHANGE OR RETURN
FREE SHIPPING ON ORDERS OVER $100
Supreme comfort
Shaped to reduce fatigue.

Shoulder check with ease.

Pockets in all the right places.

Minimalist design packed with features for everyday use.

Your search for the perfect motorcycle backpack ends now. 
Seriously Versatile
Inner sleeve to fit a laptop, back protector, or water bladder.

Cutout neck area gives room for a racing hump or offroad neck brace.

Ashvault is ready for work and play... whatever you ride.

Ranked #1 on Carryology's Top 12 Motorcycle Backpacks for Commuting
MIND AND BODY AT EASE
Shoulder straps specifically designed to let you reach the handlebars without constraint.

Just enough 3D mesh to cushion the weight of your belongings.

Peace of mind knowing your electronics are protected in the waterproof pockets.
ASHVAULT MOVES WITH YOU
Ride for hours, cut some twisties, or venture off-road and experience zero weight shift or wind drag.

Even at speed.
DESIGNED FOR ALL RIDERS
Whatever you ride, Ashvault is perfectly shaped to maximise capacity while keeping close to your body.

The end result = weightlessness.

Whether you're sitting upright or in full tuck.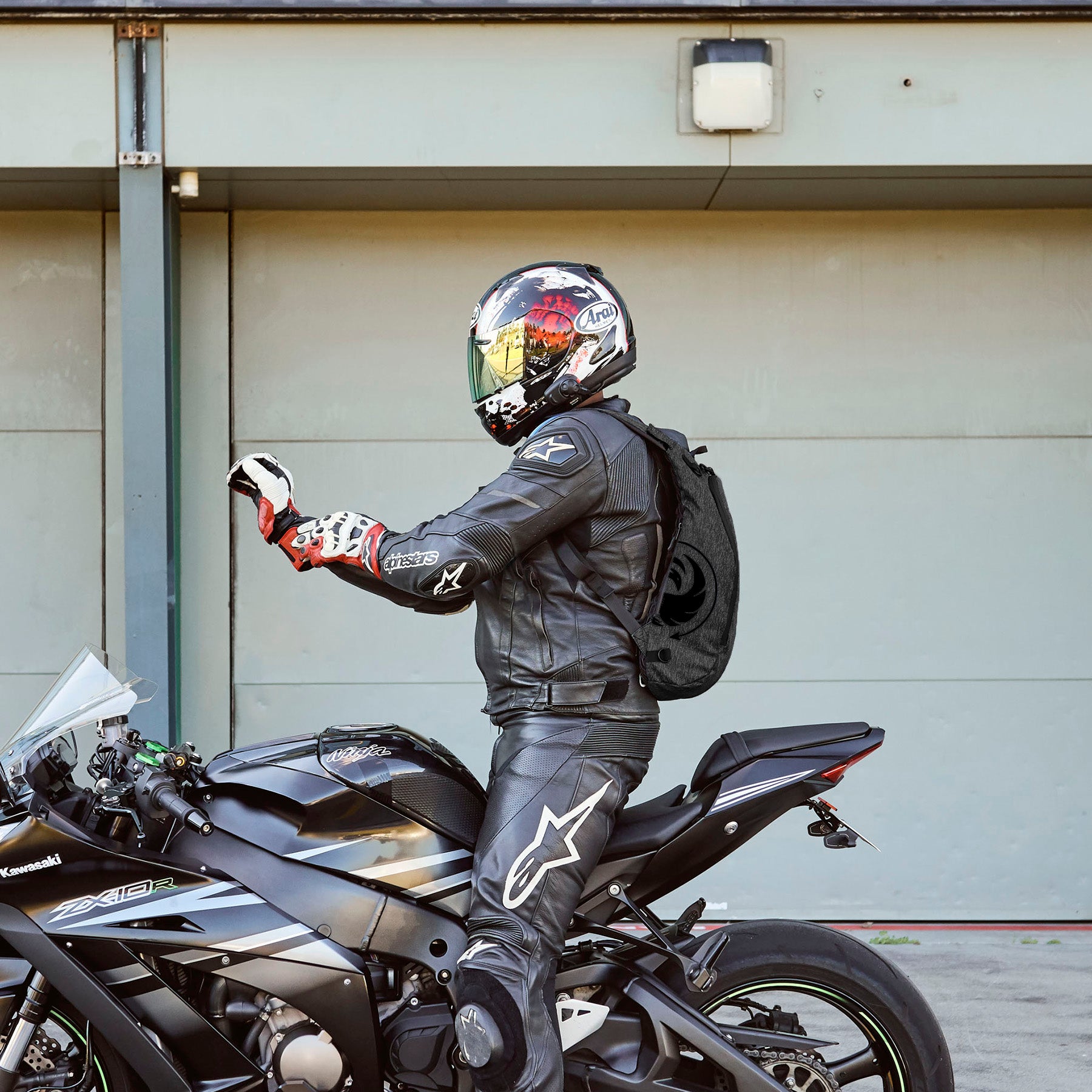 QUICK SPECS
MEASUREMENTS

Length: 400mm / 15.75"
Width: 280mm / 11"
Depth: 150mm / 5.9"

WEIGHT & CAPACITY

Weight 0.6kg / 1.32lb
Capacity: 15L / 3.96gal
MATERIALS

Outside: Black Snow Polyester
Inside: Waterproof Ripstop Nylon
Reinforced mesh shoulder straps
Black Bags for Black Dog
Flying Solo Gear Co is a proud member of the Retailers Doing Good program at Black Dog Institute.
We'll donate $5 of every purchase of a black bag to Black Dog Institute:
---

The Black Dog Institute is dedicated to understanding, preventing and treating mental illness.
The Black Dog Institute was founded in 2002 and is internationally recognised as a pioneer in the identification, prevention and treatment of mental illness, and the promotion of wellbeing.

We aim to improve the lives of people affected by mental illness through the rapid translation of high-quality research into improved clinical treatments, increased access to mental health services and delivery of long-term public health solutions.

Our unique approach incorporates clinical services with our cutting-edge research, our health professional training and community education programs. We combine expertise in clinical management with innovative research to develop new, and more effective strategies for people living with mental illness. We also place emphasis on teaching people to recognise the symptoms of poor mental health in themselves and others, as well as providing them with the right psychological tools to hold the black dog at bay.

We work directly in all parts of the community as well as guiding the development of new and improved policy. We place focus on those with specific mental health needs like young people, Indigenous communities, men, and high-risk workforces.

Our primary areas of mental health research and treatment include: depression, bipolar disorder, post-traumatic stress disorder (PTSD), anxiety, workplace mental health, adolescents and young people, suicide prevention, e-mental health, and positive psychology and wellbeing.
Source: Black Dog Institute
The Ashvault X Backpack 15L
Love this backpack
Ever since the first iteration I've loved using this backpack. It is light, have pockets for almost everything, reflective. Been using it as my daily backpack on the bike, electric unicycle or just taking transit. Felt a bit lost temporarily when I had to switch to other bag (uncomfortable with less space), but so glad that I'm back wearing this backpack.
Great Backpack.
I have two vintage motorcycles that do not have any luggage. The answer to carrying a few tools etc. is a backpack. The Ashvault X is perfect. Thoughtfully designed, and well built. Easy to put on and off. Doesn't move around at speed either. I recommend it for sure.
Brilliant everyday
Fantastic backpack I've used everyday for work and play. Fantastic customer service when warranty queried and lightning fast open response times. Couldn't even try to commend this product or company more highly.
Light, rugged, perfect size and well worth the cash!