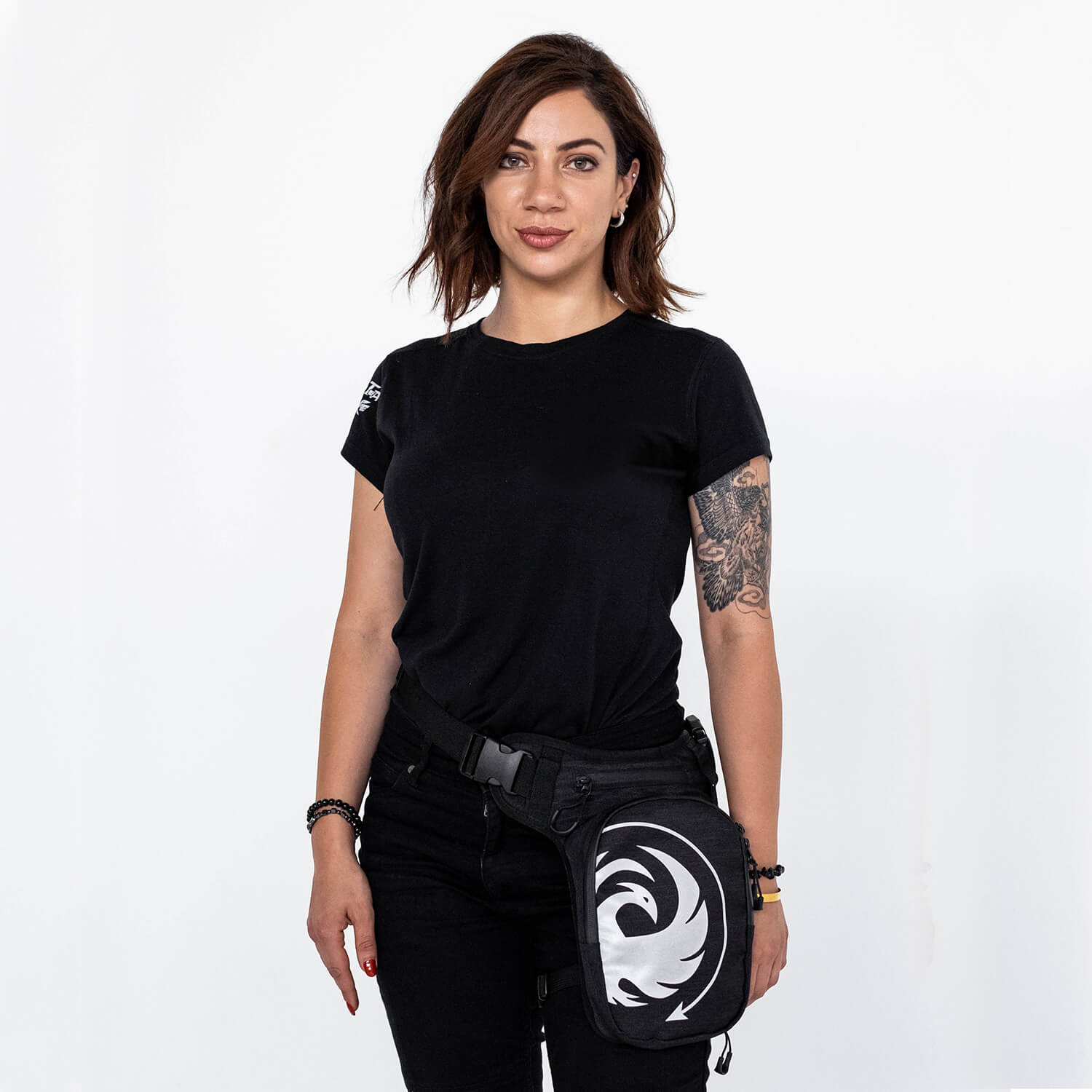 Our most popular product, designed by riders across Australia. Expands to double size. Water resistant. Comes with 2 strap sizes to accomodate all.
EASY 30-DAY EXCHANGE OR RETURN
FREE SHIPPING ON ORDERS OVER $100
Designed By Riders
26 Australian riders came together to design and test this leg bag.

After 9 months of sending (or hand delivering) leg bags to each other, we decided on this final design.

Functionality, comfort, and downright sexiness were a priority throughout the process.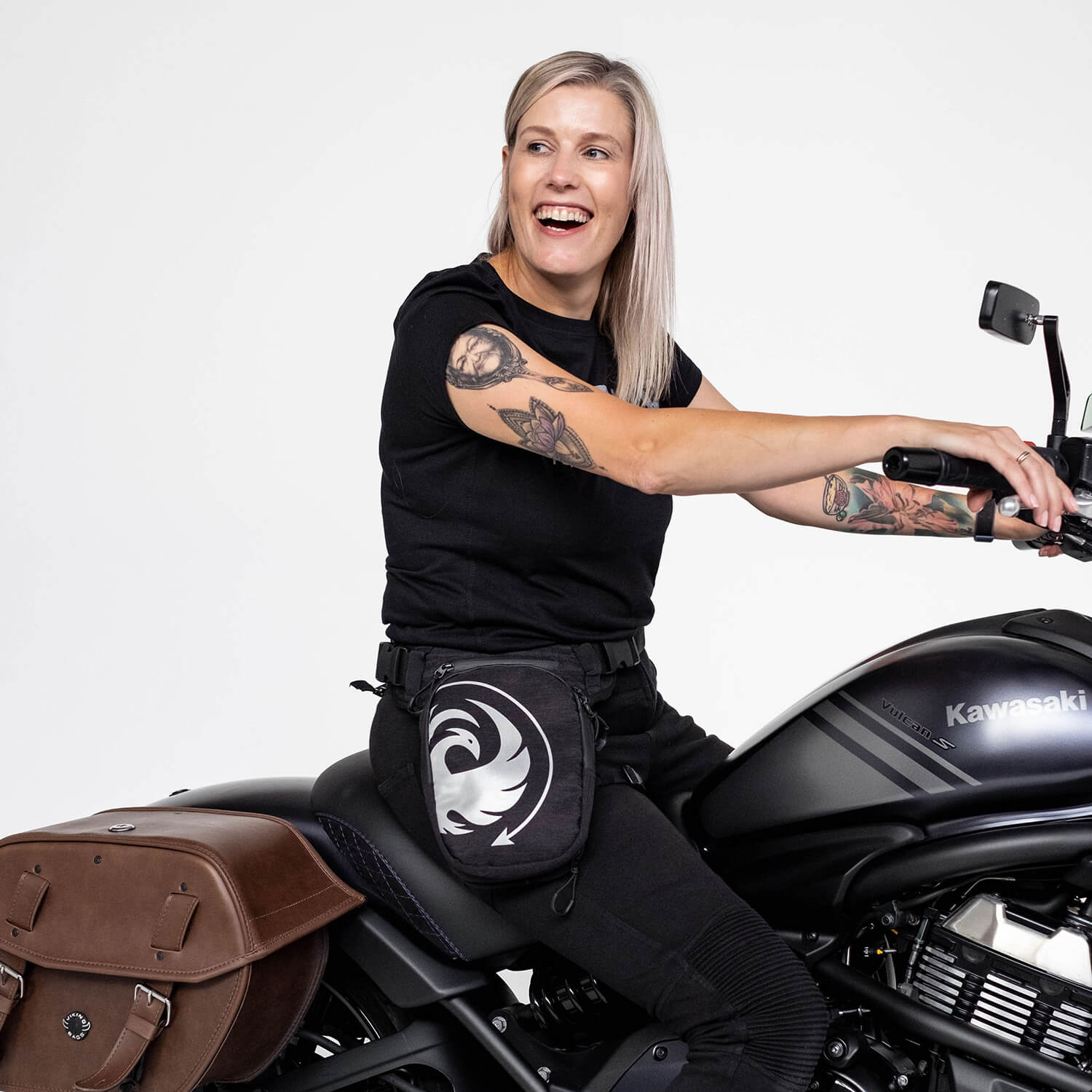 Ultimate Functionality
If you need to carry it, there's a pocket for it.

2 strap sizes to cover all body types.

Wear on either leg comfortably.

Access your belongings quicker and easier than other bags.
ABSOLUTE COMFORT
Octane feels invisible when you're riding.

You'll completely forget you're wearing it.

You'll get an urge to reach for it to make sure it's still there.

Don't say we didn't warn you.
EXPAND CAPACITY
Double your capacity with 1 zipper.

Confidently fit your wallet, action cam gear, water bottle, and other belongings, with no issues.

Sometimes, size does matter.
SPECIFICATIONS (Metric)
WHOLE BAG

Including belt buckle area
Width: 295mm
Height: 305mm
Depth: 90mm
Weight: 440g
MAIN COMPARTMENT

Width: 180mm
Height: 230mm
Compressed Depth: 50mm
Expanded Depth: 90mm
STRAPS

2 Hip straps included
S/M - 900mm x 38mm
L/XL - 1500mm x 38mm
2 Leg straps included
S/M - 600mm x 25mm
L/XL - 900mm x 25mm
SPECIFICATIONS (Imperial)
WHOLE BAG

Including belt buckle area
Width: 11.6"
Height: 12"
Depth: 3.5"
Weight: 0.97lbs
MAIN COMPARTMENT

Width: 7.1"
Height: 9.1"
Compressed Depth: 2"
Expanded Depth: 3.5"
STRAPS

2 Hip straps included
S/M - 35.4" x 1.5"
L/XL - 59" x 1.5"
2 Leg straps included
S/M - 23.6" x 1.1"
L/XL - 35.4" x 1.1"
Super handy and accessible
I don't ride without this leg bag now, it's so quick and easy to grab your phone/camera and keys. Love it!
Amandazing!
I saw this bag in a "best 5 leg bags" video and was hooked. Ordered one and a couple of days it arrived. From Australia aaaaaall the way to germany. Yes, had to pay taxes but it is absolutely worth it. I wanted to get it for the rides when I only have small stuff with me but it is so comfy that I always have it with me now, even if I ride with a bagpack, its perfect for keys, mobile phone and papers/wallet and some gummibears. Havent used the extension option yet, but I guess its going to be fine as long as you dont carry gym weights with it. In the normal mode you dont feel it at all, it stays on your leg, the zippers have these "grabbers" which make it easy to open and close with gloves on and the belt has big belt "clickers" (I know they are called buckle but clickers just sounds better :D) which also can be opened and closed with gloves. Even thinking about getting a second one to go full gunslinger mode! Customer service is very kind and quick, can wholeheartedly recommend this to any rider! Kind regards to Amanda and ride safe, mates!
Brilliantly comfortable
I went on a ride with my new leg bag the other day. Not only does it look very cool, it stayed put on the highway and I forgot I was wearing it. LOVE IT!
The bag ALL riders need
I saw a few friends has this bag, and after hearing their reviews I knew it would be a sound investment.
Beautiful fit (fitted to me by Amanda in store).
Doesn't swing around like other leg pages I have had.
Sooooo much room - It fits a water bottle!
And has the handy dandy expansion like those international suitcases (I pack mine and then zip it down (if possible) so it's less cumbersome to me.
But in all honesty, even at full size it's very easy to wear (I pack additional thermals and hand warmers).
The zips are amazingly easy to use even with gloves on.
Love anything reflective on my gear too.
Honestly, can't fault this product or the customer service when purchasing.
A+++
🖤
Great alternative to a traditional waist pack
Holds a decent ammount and is comfortable, defitnly like this one